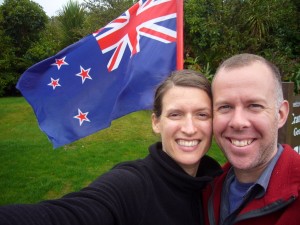 Our laundry is done, we had nice hot showers, we dumped our waste water and we're all set to get back on the road.
Taupo is a town and lake smack dab in the middle of New Zealand's north island. The lake seemed to be about the same size as Lake Tahoe.
Just north of town are our first two stops. The first one, Huka Falls is just off the highway. It's not a high waterfall, but it really gushes and is quite powerful with the prettiest sapphire blue water. In town we saw ads for jet boat rides and there just happened to be one zipping to the falls as we were snapping photos.
Our second stop is Craters of the Moon Geothermal Area that has fumaroles, craters, mudpools and lots of vegetation. There is a loop you can walk which is mostly a boardwalk and took us about an hour. We had a good time encountering rain, steam and even sun. It's hard to take photos of steam, but I think we got a few good shots to share.
Since we got up early and our two activities only lasted a couple of hours, we decided to cover some more distance on the road to Wellington.
After a couple of hours we arrived in Taihape, which just happens to be the "Gumboot Capital of the World." If you followed us during our Australia road trip, you might remember that we missed seeing a big gumboot there. This time, by sheer coincidence, we arrived in a town where they have an annual gumboot throwing contest. That sounds like a lot of fun.
We took a photo of the big gumboot and made our way across the street to Gumboot Manor where we had a nice dinner. Burgers in New Zealand don't taste like they do in the states. Here they are pretty much like meatloaf burgers. Still really good though.
On thing we noticed about New Zealand cuisine is that eggs seem to be on everything. The fish and chips I had yesterday came with an egg. The super gumboot burger (not what we ordered) came with an egg as well. New Zelanader's seem to really like their eggs.