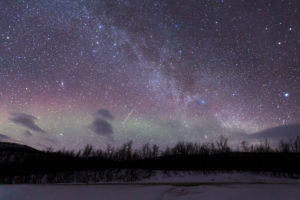 After sleeping off last night's disappointment we get up and out by midday today. It is very quiet in Tromsø today – not unusual for a Sunday after tourists were out late chasing the lights and what seemed like all of the 20,000 students in town out partying until the wee hours of the morning (we saw them outside the bars, taxi lines and bus stops … everywhere… at 4am!)
We have a few hours for Tromsø sightseeing before our second light chaser tour is on tonight so we bundle up and head out.
The weather this afternoon offers a little bit of everything – cold, windy, rain, sunshine. This could make for an interesting evening! As we stroll through the city center past the Radhus, the public library, a cruise ship port and harbor. We then make our way to and over the Tromsø Bridge towards Tromsdalen. It's not the Golden Gate Bridge, but at the highest spots the wind is just as fierce and chilly as in San Francisco!
On the other side, we check out the Tromsdalen Church (better known as the Arctic Cathedral or Ishavskatedralen). Quite the tourist attraction we decide to admire from the outside only, even if it is supposedly home to Norway's 2nd largest glass mosaic. The cathedral is a landmark visible from the Tromsø Sound, the Tromsø Bridge and when landing in Tromsø by aircraft. The 11 aluminium-coated concrete panels on each side of the roof provide the cathedral's form. The main entrance on the western side is surrounded by a large glass facade with a pronounced cross. The fantastic glass mosaic on the eastern side was added in 1972, seven years after the initial dedication in 1965.
Soon we are on our way back over the bridge towards the city center. Right at the harbor we get the last open table at the Kaia restaurant, a cozy place with good food: reindeer stew for me and fish & chips for Kirk (including an Arctic Brewery pilsner).
By early afternoon we had received word from our tour guide for later today, Geir. He has been checking the weather forecast this morning and there is a general improvement east. He thinks and hopes there is going to be chances for some clear sky towards east during the evening. There is still rain/snow and clouds so he can not give any guarantees that he will succeed in finding clear sky. Fair warning, to which he adds an opt-out with free cancellation, but we are not deterred.
Time flies and we're soon heading back to the hotel to pack our stuff for the evening tour, and by 6pm we are on our way to the Aurora Photo Guide office downtown, where we meet Geir, our guide, driver and photo expert for tonight. Geir was born and raised in Tromso, and would not want to live anywhere else. He's a professional photographer and offers the "Chasing the Green Lady" tours all season long. Before we all head out, Geir gives a presentation on how to set your camera for the Northern Lights, night photography and what the Northern Lights actually are. Then we are off to the mini bus. There are 15 people in our group tonight from all over the world again.
As we are leaving Tromsø just after 7pm, it is pouring rain outside. So we head to the mainland and south/southeast straight towards the Finnish border. By 9pm we arrive in the Skiboten area where the road towards Finland starts – it is still raining here and we keep going. Geir gets updates from colleagues who were already at the Finnish border, reporting that it may see some changes. A mountain at 800m elevation (past the border) might provide a spot high enough to find any breaks in the cloud cover.
We're only a few miles inland when the rain turns into snow and the roads are quickly covered in white. This should make for an interesting ride tonight! It is 9:38pm as we cross the border into Finland tonight. Funny how it's the same time as last night yet we have nothing to show for yet. By now, the snow as stopped, but the cloud cover is still thick with no stars in sight. We keep moving along …
At 10:15pm we pull over into a parking lot where multiple buses and private cars are stopped with cameras ready to catch some lights. It is too packed for us to actually park and stay with all spots taken by groups already here. We continue on south and by 10:35pm we pull into another one (after passing a couple others that were overcrowded as well). We are just a few kilometers south of Iitto (Finland), about 55 km south of the border to Norway.
After exiting the bus at 10:45pm, we are greeting but extraordinary clear skies littered with stars. As we get our camera equipment set up, our eyes adjust to the dark where we can see the Milky Way Galaxy above us. There are so many more stars visible than we ever get to see in most places we live or visit. But being out here in nowhere's land, it is dark–really dark. And that makes for great star gazing.
And while we look up (north) the camera already detects the Northern Lights glowing above the horizon. Faint at first, but definitely there. A green layer right above the hill, with even a red layer above it. Nicely standing out in between the dark clouds that are still hanging around in the night sky. It's not the spectacularly breathtaking dancing lights, but it's the Northern Lights nevertheless! Bucket list, check!
As our eyes get more and more adjusted to the dark and the lights get a little stronger. We can even see the green layer faintly with just the naked eye. It is impressive for sure. Kirk is happily snapping away, his camera settings tuned in to the occasion. Others in the group are also getting their photos, and Geir is checking with everyone on settings, exposure, photo success and later on serving hot chocolate and cookies.
We are out here for just a little over 2 hours before Geir takes Aurora pictures of everyone, the clouds starts to thicken up and we pack up. It is time to head back to Tromsø. We have a 3-hour drive ahead of us and everyone is ready for the warmth of the van and a nap while Geir takes us there safely. We cross back into Norway by 1:30am (bye-bye Finland – we'll see you again soon!) and will get to our hotel by 4am or so.
While it wasn't the spectacular display we had hoped for, it was quite an adventure and a successful trip nonetheless. Plus we still got some great photos to show for it. Do we see another Northern Lights adventure in our future? With the bad weather and low solar activity we decide to forgo another light chasing tour tomorrow. But we'll definitely make it the focus on a future trip. Alaska, Iceland or Norway again? Only time will tell.