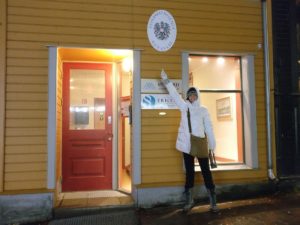 After getting back to the hotel after 4am last night it's a very late and lazy start into this Monday in Tromsø.
The weather is not making getting up and out any easier as it is a toss up between rain and snow with some wind mixed in. Dog sledding trips are cancelled due to the heavy rains having washed out tracks and we're not going for a 3rd light chaser tour as conditions are worse than the last couple of nights.
So we catch up on sleep, photos and our blog posts and take it easy until it's time to brave the cold, get some fresh air and find a place for dinner. After walking around the icy streets of Tromsø for a while, we stop at Egon's for a nice hot meal.
Now that we're fed, it off to one last stop that's a must see for any Austrian – the Austrian Consulate! 😉 Just stopping by to get a picture (home sweet home) before we continue on our stroll through the very empty streets of Tromsø (9pm on a Monday – there is no one out!).
Time to pack our bags again as we will head out for our next adventure in the morning … Sweden awaits!