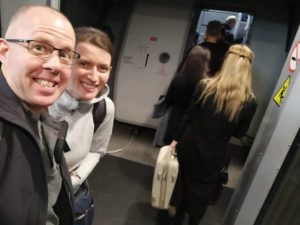 Another year, another adventure! When winter just doesn't get cold enough in the Bay Area, we head north. Well east, then north … to Norway, the first country of our Scandinavia adventure!
My parents have come all the way from Austria to house/dog/cat  sit for us, in hopes of some warmer weather. J.T. and Spot help us pack all our warm clothes for our winter trip.
Lufthansa will take us from SFO to MUC on LH459, not only a packed but a wildly oversold flight (They are offering $800 for anyone to get bumped and wait another day). We have our row-of-2 seats in the very back of the upper deck on the A380 to Munich–no one will stop us from leaving on this jet plane!
Once we're officially in Germany and in the European Union it's time for a snack of Brezel & Bier. Before long we're boarding our next plane, LH2456 to OSL. Norway here we come!
After landing in Olso, we a glimpse of the cold weather. But it's actually not too bad with a touch of snow and temperatures hovering around 0°C (32°F).
Flytoget is the express train that takes us from OSL to City Center, where our hotel, the Radisson Blu Plaza is right by the central station. Our room upgrade to a Superior View awaits … and we're ready to crash as it is coming up on 1am local time or over 20 hours since we left home.
Tomorrow, we search for vikings as we explore Olso.