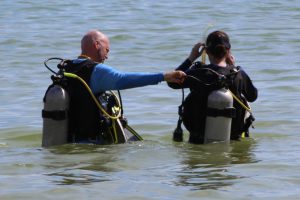 8:30am is pick up in the lobby and we all pile into a van, to head down to Kata Beach, where Rumblefish Adventures is located.
We are joined by a few more folks from "the Belgians", a group of Europeans that have been meeting up with Kristina & Clae over the last few years here in Phuket. Helga with her 2 kids Clara and Alex came in the van with us, while Sally & her family plus a few others drover separately.
Today features Bubblemakers (scuba for the under-10 kids), Junior Open Water Dive Certifications (including G!), refresher dives and beach dives.
After watching Yvonne (the dive guide) take some of our group out on the Kata Reef dive in the morning, Kirk hang out on the beach, grab lunch and meet back up with the group to return to the shop.
With the prospect of seeing a seahorse, I am eager to get my dive gear on and into the water for the afternoon dive. Yvonne leads the group again, as Clae and I buddy up to explore the Kata Reef. While it's a pretty shallow dive, we get to see lots of marine wildlife: cleaner shrimp, coral crab, nudibranch, juvenile harlequin sweetlips, schools of various colorful fish and much more. About 55 min into the dive, almost to the end of it, I've given up hope to see my first seahorse … And then we reach a buoy line just before heading back to the surface – and sure enough, the little guy (actually: really big guy!) is hanging out down here, just waiting for us to say hi! What an ending to this dive! 🙂
As we surface, it's raining! Well, we're already wet to begin with, so I guess it's more of a rinse-off than getting drenched (unlike the folks that were at the beach waiting for us to come back)! We return to the dive shop and get cleaned up, before heading around the corner to Capannina's for dinner … where you'll get the best pizza in Thailand!