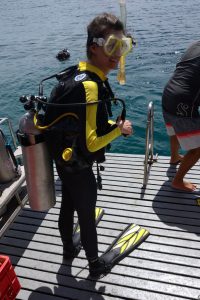 This morning does not feel like we're on vacation … we have to be up and out by 6:30am to catch our van to Chalong Pier. After 1 1/2 hours ride, we arrive at the pier where we meet up with the Rumblefish crew and more of the Belgians, to hop on to the Latitude ship which will take us out to Koh Racha Yai, a small island with great diving. While only 10 km from the pier, it takes about 1 1/2 hours to get there by boat. But the water is crystal clear and turquoise blue …
We get geared up again, ready to jump in for the next dive! Don and I buddy up this time, and after a few minutes in the water we are burning through air like there's no tomorrow, as we are caught off guard by the strong current that we are fighting. So the 2 of us surface, while the rest of the team stays below, heading on. Yvonne, our dive guide, comes back up shortly after, and gives us direction on where to surface-kick to. After catching our breath, we go back under again, and join the group to explore the reef. More schools of fish, puffer fish, star fish, coral crab, a giant moray eel, and a wreck … well, that's what they call a concrete cube and some anchored nets and poles, but an artificial reef has started to form already, as we can explore down here.
After lunch, it's time for the 2nd dive, which I skip in favor of some snorkeling with Kirk, and checking out Kody's bubblemaker skills in the open ocean.
Too soon it is time to return to the boat, and get cleaned up. It has now started to rain, and it's getting heavier as we collect all remaining divers and equipment (including the water slide). The ride back to the pier is a little bumpy and chilly, as the wind and rain pick up. But once in the van, everybody gets a little nap on on the way back to the hotel …