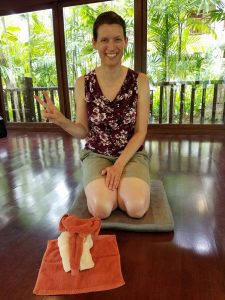 Friday is our last full day here in Phuket – and the plans include relaxing, pool time, beach massages and more relaxing. Plus a towel folding class for me! Yup, need to know how to fold those towel animals we've been getting from our housekeepers!
I meet Sally and her daughter Lauren at the class, where we are being shown how to make the elephant, dog, turtle and a swan. Now if only I can remember how to do those by the time I get home… !?
Saturday is check out. Has it really been a week already? We get the luggage stored away until this afternoon and head back to the pool to enjoy some cooling off in the humid heat today, and squeeze in  last beach massage before it's time to head to the airport.
Phuket to Singapore is on the schedule for today, and after a quick overnight at the SIN Airport Transit Hotel, we are off to San Francisco, as it's time to return to reality after a fun-tastic 2 week vacation!