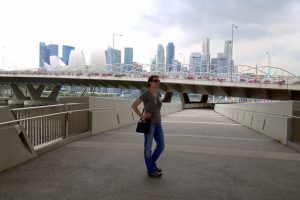 Nothing worse than putting on the same clothes you wore already on the world's 4th longest flight yesterday, but with no other choice, we head out to explore the city. As the hotel name suggests, we are right next to the Singapore River, and start our tour walking along the water, following the highlights outlined in our guide book: Robertson Quay, Clarke Quay, Elgin Bridge, Boat Quay, Covenagh Bridge, and finally the Merlion at the marina.
From here we follow along the harbors edge and the Promenade Walk to the Singapore Flyer. The sun is peaking out from behind the clouds (which is actually just making it really hot), so we step on board and enjoy the flight … or the 1 round trip high above the F1-race track to take in some spectacular views of the city skyline.
Clouds have rolled in as we land again and we can hear the thunder as well, but other than a few raindrops, the weather holds up. We head back over the Promenade, and into the Colonial Quarter. Here we stroll by the Lim Bo Seng Memorial, Raffles Landing Site, pass the Victoria Concert Hall with Raffles statue in front, the Arts House, the Asian Civilizations Museum and Parliament, before stopping at a large "food court" to get a (late!) lunch. Nope, not at the booth selling "cooked pig organs" which Kirk is checking out, but rather at the one next to it, getting regular chicken with rice and sauce! Staying safe here …
Ready to see more, we move on to The Raffles Hotel, were the famous Singapore Sling was invented. Since I do not like gin, it's a no-go for me, and the  double whammy of The Long Bar (where the signature drink is usually served) being closed for renovation and the price tag of SG$31 per glass at the other hotel bar is enough for Kirk to say no-thanks as well.
On our way to the metro station, we stop at St. Andrew's Cathedral, and then head back to the hotel. Singapore Airlines had called to let us know that our bags would get there between 3-5pm, and we don't want to miss them! Well … getting back just before 4:30pm does not do any good if the bags are (further) delayed. We call the airline, and learn that the new arrival time is now estimated between 7-7:30pm. I leave another (now angry) message when nothing has happened by 7:40pm – but don't even get another callback. This is a very frustrating and disappointing experience with SG! It is 10:55pm when the bags are finally delivered to the hotel! The bell staff knows how anxiously we've been waiting and is bringing them up right away (all team members at this hotel have been great!). Aaahhh … clean clothes!!!