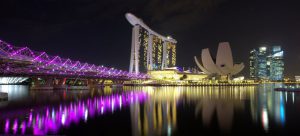 Live is much better with clean clothes on!
The plan was to simply walk to Chinatown from the hotel, but a major downpour is having us change the walk to a drive, or a cab ride to be exact. Can't go wrong with the fare: SG$5, well worth it! And as the driver drops us, the rain has mostly stopped as well.
Our first stop is Thian Hock Keng Temple. From here we walk to Telok Ayer Park, grab a drink at the food court (fish head anyone?), and check out the city model at the Singapore City Gallery. Next stop is the Buddah Tooth Relic Temple, followed by a successful stroll through the street markets of Chinatown, including  the pedestrian mall on Pagoda Street, and then a stop at Sri Mariamman Temple.
Time to switch ethnicities, so we hop on the metro and head north for 3 stops, exiting into Little India. A very different atmosphere in this part of town, but no less intriguing! We visit the Sri Veeramakaliamman Temple, stroll along Sevagoon and Arab Street, before we are exhausted and a little hungry. A quick 7-Eleven snack gives us just enough energy to hop in  cab for the ride back to the hotel … time for a quick refresher break!
Can you call the timing sunset when there was no sun out today to really set tonight? In any case, we're headed to the Marina Bay Sands Hotel as the evening approaches, to check out the observation deck and its views over the city. Unlike yesterday's Flyer views however this time is will be nighttime shots to capture!