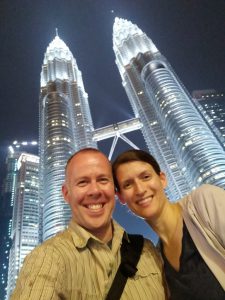 After getting some rest after it was almost midnight when we got to the Sheraton Imperial KL Hotel last night, we are now eager to get out into the muggy day and see my top sight … but late breakfast/early lunch first! Just across the street from the hotel is a mall, where we eat: carbs! (my plate had 2 main servings of carbs, with a side of more carbs! That's club sandwich with spaghetti and pancakes … weird combo, but good).
Then we walk to the Petronas Twin Towers, approx. 2 km away, but it feels a little farther given the weather. After last night's taxi experience (Have you ever been in a 45 min cab ride where the driver was burping non stop? It's a little creepy …) we walk anyways. The 452m high towers are quite the sight to see, and in what must be off season midweek, there are no lines for the "tour", and we get in and up to the Sky Bridge at 170 m (41st floor) in no time. The views are great from this 2nd highest bridge in the world, but soon we are ready for higher grounds, taking the lift up to the 86th floor ("storey"), where the observation deck is (370 m). Here, the views are fantastic!
Bukit Nanas Forest Reserve (now called KL Forest Eco-Park) is a small patch of rainforest sited in the heart of Kuala Lumpur, at the base of the towering KL Tower, one of the tallest telecommunications structures in the world. Unknown to many, it is a small green patch that still preserves many species and features of the original rainforest that covered Kuala Lumpur at one time. And it's our next stop for today!
We take the TLR (public transit/metro) to get close, then walk around half of the hill before we reach the entrance to the Canopy Walk that is part of the Forest and will get us up to the top. What an experience in the middle of this bustling city! It started to drizzle just a little, but that makes the humidity even worse. So we take the elevator up the KL Tower to the observation deck, 276 m above ground. Think it's not enough after the earlier twin towers? Wrong … the KL Tower stands on top of a hill, about 100 m high – so comes to just about the same height! We enjoy great views from up here, too.
It is getting late in the afternoon, and we're ready for a refresher break back at the hotel.  Not wanting to miss out on a ride on the Monorail, we splurge on a token … US$0.30 per person – can't beat that to get right back to the hotel!