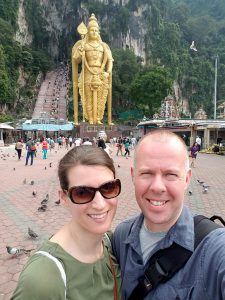 After a night time visit to the Petronas Twin Towers to get some more pics, we get this 2nd and already last day started with breakfast at the hotel … can't beat KL pricing for F&B! Then we hop in a cab to get out of town, about 13km north of the city center, to the Batu Caves.
One of Malaysia's national treasures, and holiest Hindu sites, this complex of giant limestone caves houses temples that have been drawing pilgrims for more than 120 years. The caves are an atmospheric, colorful (and joyfully tacky) and fascinating place to visit.
The Temple Cave can be visited by passing the 42.5m gaudy golden statue of Murugan, son of Shiva, and Hindu god of war, and up 272 steps leading up to the main dome shaped cavern. Inside the first cavern the lord's six abodes are carved into the walls, while a second cavern holds the temple of Valli Devanai, his wife.
We skip the Dark Cave, which offers guided 45-min tours into the caves, along 800m of the 2km of surveyed passageways within seven different chambers. It's not the timing or entrance fee that dters us, but probably more likely the rare trapdoor spider that lives in the dark part of the dark cave, and is a site I can go without just fine.
Instead we descend all the way down the stairs again and head over to the 3rd cave – Ramayana Cave. Perhaps no cave at Batu is more spectacularly over-embellished and enjoyable than this one, which boasts gaudy dioramas of the Indian epic Ramayana. Inside the cave, there is a giant Gulliver-like statue of Kumbhakarna, brother of Ravana and a deep sleeper (he once snoozed for 6 months). Further up the narrowing but towering cave interior, past two artificial flowing streams, is a shrine to a naturally occurring linga. This phallic-like stalagmite is a symbol of Shiva.
It's hot and humid again today (temperature at 89 degrees, feels like 108 due to the humidity), and hiking up and down all these stairs is not helping! Much better to return to our air-conditioned cab to go back to the hotel. With a couple hours left before we need to head out to the airport, this is a great time to get a cocktail (or beer) and relax … first at the hotel bar, then at another local bar across the street.
And soon enough we hop onto the Monorail once again, to go to the KL Sentral station, where we catch the KLIA Express train to take us to KUL airport for our flight back to SIN!