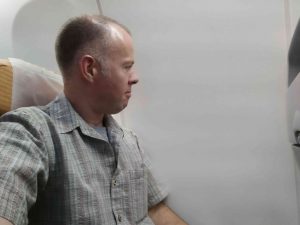 No April Fool's Joke, we are leaving Malaysia and Singapore behind, and get started on the 2nd half of our vacation … time to head to the airport and hop on the plane to Phuket, Thailand!
Kirk was lucky enough to get the window seat to catch great views on our way to Phuket… Uh, well, yeah, that didn't work out so well as sometimes a window seat isn't always as advertised.
Our flight is mid-day, SIN-KHT, and less than 2 hours after take off we arrive in Phuket, where we are greeted by our driver who will take us to the hotel. We have another hour before the others arrive, so we enjoy cocktails at the bar and wait.
Kristina, Clae, Kody, Kim, Doug, Alisa, G, Jessie and Don pop in soon after and we all get checked into our villas at the JW Marriott Phuket Resort & Spa  … Team Same Same is now complete!