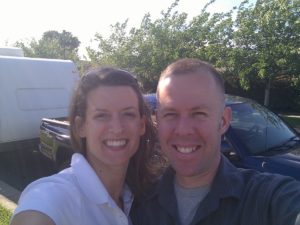 It's been a month already since our last trailer trip (which had been just the beginning of a fun-filled season) and we're now off to our 2nd annual 2-week trailer trip with the Fun Finder! This time, we're headed south-west, to SoCal, Southern Arizona and New Mexico, in pursuit of the stars (well, anything space, sky, stars, sun, south and Air Force!).
With the trailer packed and the cats taken care of, Kirk and I are getting on the road only 24 hours later than originally planned … it's late Saturday afternoon, instead of Friday right after work, but things got a bit out of hand and with no set plan to stick with, our departure was "just on time!"
It's Memorial Day Weekend (looks like our trips tend to start on holiday weekends), so we know that campground availability could be tight. But after a quick dinner stop in Patterson, we realize that not only is the RV park in Kettleman City (right off I-5) closed for good, also the one in Lost Hills (again off I-5) has been shut down.
Which brings the closest stop all the way down to Bakersfield! And there we go … And to build on another "tradition" – our first night will be spent at the WalMart campground … aehmm … parking lot, nestled between other trailers, motorhomes and truckers.