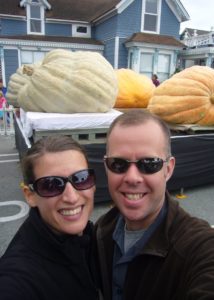 What a season! Although the number of trips was not as impressive as during our first season, this season 2 had even more nights – and now, in mid-October, it's time to wrap up before the trailer gets bundled up for winter storage.
So for our last trip this fall, we're crossing the Bay and head towards the Pacific coast … but not just quite all the way. Following Hwy 84 all the way west to Hwy 1 and then back inland past Pescadero, San Mateo County Memorial Park awaits!
(scroll down for the Photo Gallery)
Kirk & I park the Fun Finder at A-7 on the Sequoia Campground inside the park, while Kristina, Clae & Kody set up on A-17, just behind us! Spacious sites under huge Redwood trees, damp and soft wood floors, and green all around. What a nice place to be!
After getting a slow start into our Saturday morning, we're all heading into Half Moon bay, less than a half hour away, to enjoy the masses at the famous HMB Arts & Pumpkin Festival on Main Street.
Relaxing, dinner and a card game come to an abrupt end around 10pm when a fast but heavy rain shower drives us all into our trailers, and calls it a night! And much sooner than we like it, it's Sunday morning and time to pack up one last time for the season, and head home again.
Until next season … Happy RVing!
Photo Gallery: