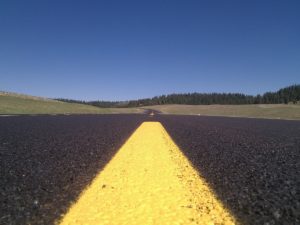 2 nights of dry camping in a row get rewarded with: coin operated showers at the Marble Canyon US Post Office (ok, same building, next door, behind the Laundromat). 50 Cents to get in, plus $2 for 5 minutes of water … but it's cold! OMG! I spend another $2 before I'm ready to actually to embrace the cool … 😉
Then we're heading uphill (about 3,000 ft in elevation gain) and against the wind for the next hour and a half, to the entrance of the Grand Canyon National Park – North Rim!
We park near the visitor center and enjoy a walk along the rim, as well as a quick hike to Bright Angel Point, for an even better view of the Grand Canyon (which by the way officially starts at Lee's Ferry, where we camped last night!).
Lunch is served just outside the trailer, with just a few trees between us and the canyon!
Then we head back out of the park, north and west, to the next National Park on our route: Zion National Park. And as we are entering from the east, we get the grand view version of the park (all along Hwy 9). From Checkerboard Mesa at the start to the Tunnel and serpentines downhill with the spectacular views of the bridge (in the rock wall) and the ever changing rock formations … We are impressed!
With another very impressive day coming to an end, we decide it's time to find a camping spot – and just about halfway between the Zion NP west exit and I-15, we stop at WillowWind RV Park in Hurricane, UT for the night.