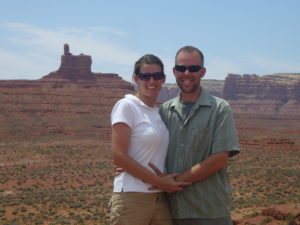 Just when we thought we had had an impressive day yesterday, we get today started! It is completely quiet as we wake up at the Natural Bridges National Monument campground, and that's an unbelievably nice experience! Ahhh ….
But soon enough we're up and get ready for yet another fun filled day! Leaving the trailer (with dog) at the site, Kirk and I head out to the 9-mile loop drive through the park. Already at the first pullout we're mighty impressed: what a canyon! What an overlook! We crawl around the edge of the cliff in pursuit of the best views.
On to the first bridge overlook: Siapu. Quite impressive, and my very first natural bridge! During winter and spring, this bridge continues to get carved out by the water.
Our next stop is for a 0.6-mile loop walk to the Horse Collar Ruin overlook, from where we can see the small cliff dwellings on the other side of the canyon.
And then we're off to bridge #2: Kachina. Just as impressive as the first one, we certainly do not mind the short walk to the overlook.
And last but certainly not least, we stop at the 3rd and final bridge of the park: Owachomo. Here we hike down the steep wall of the canyon until we stand completely under the bridge, and then on its other side and back! Stunningly beautiful , certainly a highlight if the trip! The hike back up to the truck is impressive as well, and despite the light breeze it's getting to be toasty again.
Back at the campsite, we pack up the dog & the trailer and head out of the park. A quick brake check however reveals that we're not yet ready for the next portion of our trip … some under-trailer work needs to get done as the brake cables have been chewed up once again! So Kirk spends the next 30-45 minutes and fixes it!
Now we're off for real, and on Hwy 261 south … where after about 22 miles the "Moki Dugway" awaits – a steep dirt (gravel) portion (4 mi) of the highway, with a series of tight switchbacks that drop over 1,000 ft from Cedar Mesa to Mexican Hat. Slowly but surely we make our way down and enjoy the fantastic view over the Valley of the Gods and Monument Valley.
Once at the bottom, we park the trailer on the side of a side road and head to the 17-mile dirt road through the Valley of the Gods. This is the "real" Monument Valley, with grand close ups and a true backcountry experience!
All dusty and filthy, we pick up the trailer again about 1 ½ hrs later, and now drive through the actual Monument Valley. Back in Arizona, we stop for gas, late lunch and groceries, before heading further west once more.
We stop for the night near the tiny town of Marble Canyon, at Lee's Ferry campground in the Glen Canyon National Recreation Area. This is the official beginning of the Grand Canyon, and a great place for us to get ready for a new day tomorrow …