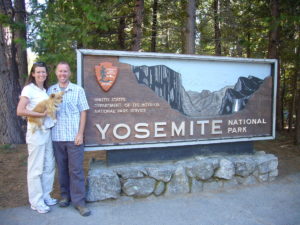 After two weeks, it's day 14, and the last day of our trip. Today we awake in Lee Vining and make our start up Tioga Pass. The pass usually isn't open this early, but due to low snowfall we're able to cross over the Sierras at the best place imaginable… Yosemite National Park
Right at the peak of Tioga Pass at 9945 feet is the entrance to the park. Over a day ago we were 294 feet below sea level. That's pulling our little trailer almost 2 miles up at 10227 feet. Yikes!
Soon after entering the park we are driving through the most beautiful valley one might ever see, Tuolumne Meadows. It's green with winding streams surrounded by granite snow-capped peaks, trees and clean air. Amazing. It was so impressive that out little puppy friend was so overwhelmed with the beauty, she barfed all over Andrea… which resulted in a full change of clothes. Yes, Yosemite is impressive. 🙂
It's lunch time and what better place to eat than Olmsted Point. Here you get the most extraordinary view of granite topped off by Half Dome. Here we met up with a pair of marmots. Cute little guys who aren't so little. They were making their way through the rocks under our feet which was fun to watch. After a few paparazzi photos of the pair, we took a short stroll down the trail to see even better views of the valley below.
After lunch we make our way down to the valley floor. Some oncoming cars and (large) RVs got a few choice words out my windows as they made their way (speeding like crazy) in to our lane trying to clean the dirt off the side of my truck. But we made it safely down and were pleasantly greeted by Yosemite Valley. Green meadows and beautiful trees surrounded by the largest granite formations in the world… only to be topped by amazing waterfalls around every other corner.
It's hard to describer Yosemite with words. That's why Ansel Adams used photography to show the world it's beauty. It was his photos that helped preserve the park into a National Park. It's also why we took the photos you see below. But even the best photos can't compare to visiting Yosemite in person. If it's not on your travel list, we highly recommend you put it on there and go check out Yosemite for yourself.
14 days went fast, and this was the last stop of our trip. As the sun starts to fall to the west it's time for us to head west on Highway 120. Next stop… home.