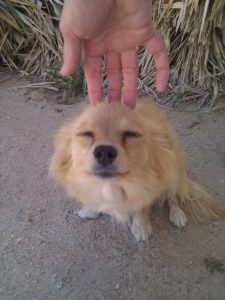 What a day to remember!
Walking to the showers this morning, I found myself being accompanied by … a little dog! And after checking with all other campers around as well as the campground office, it becomes obvious that the little lady is a stray! Well, left behind by someone, and judging by her looks has been out in the desert for the last few days. And any additional night could be her last, given the coyotes and wild dogs that are just waiting to get a little "snack" from inside the fence!
You'd think that being the dog person that I am, I'm all over this one! But instead, she's all over me! As if I had bacon stuck to my legs, she's following me around, with tons of puppy love in her eyes. And here comes Kirk – the cat person – and declares her our foster dog and camping companion until we figure out who she belongs to or get her a real home! She won't tell us her name, and since we can't think of a fitting name for her right now, we'll just leave it at "puppy" and "doggie" for now… and get her outfitted with a new collar and leash, plus food & a bed!
And with the new buddy on board, we're off to Joshua Tree National Park!
Our first stop is at Hidden Valley, where we follow the 1-mile loop trail for great vistas of the area.
Back on the road after a while, we enjoy scenic views along the way, including Skull Rock at Jumbo Rocks.
Then we're moving on to White Tank, where we have lunch in the campground, and try to sneak a peek at Arch Rock … but with our little fella on the leash, the trail is off limits. Already making sacrifices for her! 😉 We continue on south through the Pinto Basin and by Cholla Cactus Garden, before leaving Joshua Tree National Park at Cottonwood Spring.
And then we're on I-10 East, headed towards the Arizona border and beyond!
Overnight stop is at the Leaf Verde RV Resort & Campground in Buckeye, AZ, just a half hour outside of Phoenix. A huge place, but very nice with friendly people!