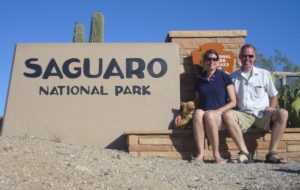 We learn a bit more about our travel companion today, as we're trying to get her professionally cleaned up (aka groomed) – she's about 1-2 years old, great teeth and seems healthy overall. Still no name though … it will come to us! 🙂
With morning traffic well past, we're cruising through Phoenix, stop for lunch at a rest area and then continue on to Tucson. Here, it's all about "flight" first, and "cacti" second!
At Davis-Monthan Air Force Base, over 4.400 decommissioned military aircraft are parked for their last parade … at the bone yard. The sheer size of the area visible from the public roads is truly impressive. And looking at rows upon rows of small and big planes will surely leave an impression!
From here it's just a short hop to the entrance and visitor center of Saguaro National Park – Rincon Mountain District, which is the Eastern half of the park, in the southeast of Tucson. An 8-mile one-way road leads us through a beautiful areas of the park with an abundance of various cacti, other plants and animals, including lizards and quail. Definitely a place to stop and enjoy the views!
And since it's getting late already, we're heading on further east for about another 45 min, to Benson, AZ where we call it a night at the local KOA campground.