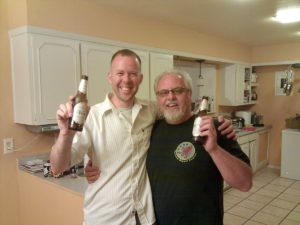 Welcome to the very windy high desert of southern New Mexico! It's almost strong enough to blow our little trailer out of the site!!
Another beautiful day and it will be hot again, too.
But first things first – the dog needs to get cleaned up! (We still have not settled on a name, but J.T. is what she goes by in official documents, such as the vet's –> J.T. as in Joshua Tree. ."Waggin' Tails" is a boarding & grooming place in Alamogordo, just a few miles from the campground, and we're headed here right away. And although they usually don't do drop ins, they make an exception and squeeze us in!
While the dog is getting beautified, Kirk and I are headed back to the White Sands National Monument, where we check out the Visitor Center and watch the introductory video (these 17 minutes are worth it – especially before you drive in the park!), then head towards the sand dunes.
We stop at the Dune Life Nature Trail and follow the 1-mile loop trail through the white sand, hills, inter-dunes areas and more sand. It's not only sandy, and pristine and soft and silky and super fine, it's also very white, glaringly bright and takes your breath away in every sense of the word! (good thing we brought water).
And to prove the trail's name right, we do find life in the dunes! First in the tracks that cross our path, and soon also the "real thing" – 2 snakes, a white lizard, a bird, a dragon fly and plenty of bright red ants!
Once we get back to the truck, we drive on a bit further into the park, and stop at the "boardwalk", where we walk into the dunes once more, to find blooming flowers and 2 more lizards in the white sand. At the furthest point inside the park, the road loops around and we find visitors on their sleds, sledding down the white hills as if it was snow! Then it's time to get back to town to pick up the dog … and look at her! All cleaned up, smelling like soap and with silky soft fur, she's finally ready to cuddle!
After lunch back at the trailer it's time to relax a bit (violently interrupted by a short but powerful gust of wind that almost takes out the awning and the trailer with it), before we head towards the south of town to meet up with Steve Bell and his family.
Steve and Kirk met in the Air Force when they were both stationed in Germany, and after 12 years, it was about time to meet again! And with some fresh Bitburger Beer in hand, they had a blast catching up and talking about old times. We also get to meet Steve's wife Lucy and their kids Kimberly, Jordan and Sarah, who are eager to at least find the top name choices for the dog (if they can't keep her completely!). We walk away hours later with some great memories and a long list of naming options (still no final decision made).