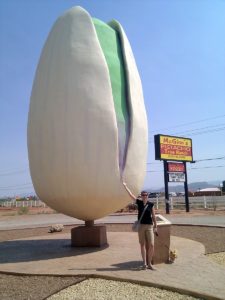 Steve recommended that we head up north on 54 to check out the  Three Rivers Petroglyph Site, head east on 380 through the Valley of Fires, and stop for lunch for one of the world best burgers in San Antonio, NM. Instead of decided which ones to do, we just hit them all.
But first we had to make a stop across the street from out campground. Yep, the world's largest pistachio. Andrea has a knack for finding superlatives of the US. But this one found us. So a stop for a photo, bag of pistachios, and a shot glass was a must.
Three Rivers Petroglyphs was a half mile hike up the trail. With our National Park Pass in hand, entry was free. It's pretty amazing to see the old artwork. Ancient graffiti anyone? Check out the photos below to see what petroglyphs we discovered.
Turning left on 380 and a few mile later… we hit the Valley of Fires. Steve said it was pretty cool and he wan't lying. Amazing contrast of a black lava field in the middle of the New Mexican desert. Turns out that the campground is quite nice. With the beautiful lava landscape it's a perfect place to call it a night. Unfortunately we were just starting our day and had to push on. But if you are ever camping in the area, we highly recommend staying here. They have a dump station, power, and I believe water hookups at well.
An hour later we reach the end of the highway in San Antonio. It's lunchtime we just had to stop for one of the world's best hamburgers at Buckhorn Tavern. The Green Chile Cheese Burger was rated #7 on Food Networks top 20 best burgers in the US list. Chalk up an order of green chile cheese fries and we're set (with indigestion) for the next couple hours up to Albuquerque.
In Albuquerque we make a not-so-quick detour to Camping World for a new gas line. Gas leak… Ugh! Why not-so-quick? Well this is a location that is not correct in Google Maps. Wrong way, a couple miles off, and the wrong side of the freeway. After 15 minutes we finally find the place. Great thing is that they had the right hose for only 10 bucks! I with all trailer problems were that cheap. A pack of toilet paper and replacement hose cap thingy and we walked out spending under $20. Woo hoo!
We're both exhausted and finally decide to call it an evening. It just so happens at our next turn north of town is a KOA and a Walmart. We stock up on food, setup the trailer, and call it a night.