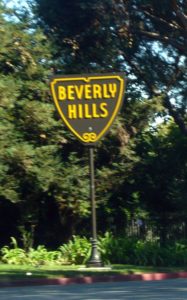 What better weekend to go down to LA to visit the Austrian Consulate than over September 26, the Austrian-American Day (per President Clinton's Proclamation 7027 from 1997!? None, so this weekend was to be it!
After making good time on our way down to the outskirts of LA, we came to an almost-stop on the freeway as a camping/travel trailer had crashed into the center divider, causing 3 lanes to be blocked (an hour delay was the result). What better reminder for all upcoming camping trips to drive safely!
All checked in to the Beverly Hills Residence Inn later in the afternoon, Kirk & I stroll down to Rodeo Drive, where Kirk pretends to never have heard of stores like Tiffany's, Gucci, Versace, etc., but certainly holds on tight to his wallet! Not sure why … Anyways, after not-shopping at any of the stores (OK, it's Saturday and they're already closed for the day), we decide it's time for dinner and a front-row table (along the sidewalk) at The Cheesecake Factory catches our eye. Need I same more? Even though no celebs come parading past us, we have our share of fun entertainment just by watching the locals & tourists stroll by, drop off their cars at valet, chit-chat in groups of 15 (age & number of young girls armed with cell phones in Saturday Night outfits) … What a place to be!
Sunday is – despite all plans not to have a lot of plans – another busy day. A short drive down to Santa Monica is first on the list, and around 10:30am we're meeting Janel for brunch. She and Kirk were stationed in Germany together, she had just moved to LA – and what better opportunity to catch up than when you're in the same town for the weekend! Afterwards, we're taking off to the Santa Monica Pier, enjoy the scenery, and a ride on the Ferris Wheel. The evening is reserved to catching up with my friend Denise, who lives just east of LA. Denise & her husband Jin are taking us out for dinner to a very nice, authentic Korean BBQ place in Korea Town, followed by a visit to the Griffith Observatory in Hollywood. Despite the heat (it's a heat-record breaking day, with no cooling off that evening), the view over LA is fantastic! And now it's my turn to catch up on life &  gossip!
Monday morning brings the real reason for our trip – a quick visit to the Austrian Consulate in Beverly Hills. Just a few minutes and a whole lot more $$ later, we're out the door already and back on the road heading north. What a weekend!
Enjoy the photos from our trip – we surely did!