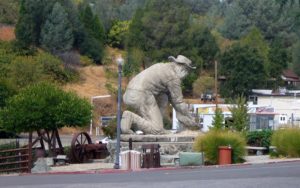 It's been 2 weeks already! Or maybe: only!? in any way, we're off camping again. Yep, the little Fun Finder does not get much of a break these days!
Long planned this time around, the camping website "Camp California" was promoting a great deal for the October 1-3 weekend: stay at a select campground, and get a full hook up site for 2 nights for only $50 all inclusive. No doubt that between Kristina and I, we had the website marked, reminders set and when the participating campgrounds were announced, we were all over finding one for us! The "Auburn Gold Country RV Park" ended up being the place of our choice, given distance to home (2 hrs) and things to do (gold … need I say more?). A former KOA, this place has pretty tight spots, but trees and shrubs help provide some privacy. And full hook ups – after several trips without any – proof to offset anything else! 🙂
After arriving up here (2,000 ft elevation) Friday night, Saturday is all about the Gold. Breakfast is served at Awful Annie's in Old Town Auburn (great reviews online, mixed feedback from our group), and then the 5 of us (Kristina, Clae & Kody, Kirk & me) are headed north on Hwy 49 to Grass Valley, where the Empire Mine State Park is located, offering insights to the gold mining industry of the late 19th and early 20th century, a self guided walking tour of the mine grounds and a guided tour of the cottage and club house buildings as well as the gardens. Despite the heat and the tour guide's age, this turns out not to be a repeat of the "collapsing-guide tour", but rather an informative walk through the park and the (nice) buildings of the mine. Turns out, we just visited the largest and richest mine in California! And it is said to still hold 80% of its actual gold content (meaning that the 360+ miles of caves dug into it only brought out 20%). That's impressive!
After that it's time to get back to the campground, for a sandwich lunch & a nap! Gotta get your strength back for dinner!
After yet another wake up call in the middle of the night from soft rain dropping on the trailer (this time we are prepared – everything is under the awning!), Sunday turns out to be just another beautiful day! After breakfast, the 5 of us head into Old Town Auburn for a little walk, before it is yet again time to pack up and head home.
Fun: found again! Gold: not so much … But check out the photo gallery below! Happy camping!