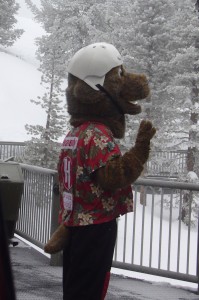 Heavenly! That's how I usually feel on the slopes of Lake Tahoe's highest elevation ski resort Heavenly!
This weekend, we're on our next trip up to the snow – spening Friday night at TimberLodge again, to enjoy a full day skiing. The usual suspects (Andrea & Kirk, Kristina & Clae & Kody) are being joined this time by the Stewarts (Alexis & Matt & Jake & Kobe), to test the motto; "the more the merrier".
While Kristina & Alexis took the boys sledding on Saturday, Clae, Matt, Kirk & I headed up the gondola for some skiing on the … cold, cloundy, breezy and foggy mountain! What a welcome – almost blown away by a wind gust as we get out of the station, we are in for a day of poor visibility and freezing wind … but great snow!
But since even this kind of weather cannot keep a true skier from the runs, we had a great day – mostly on Tamarak and Stagecoach!
Take a look …