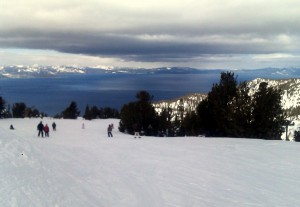 Also the 2nd (and already last!) day of the 2010/11 skiing season took place at Heavenly @ Lake Tahoe.
While the morning started out sunny, the day surely got a wee bit windy as Clae & I were flying down the slopes of Nevada side, then the California side, and back to the Nevada side of the Heavenly mountain!
18,500 vertical feet and about 6 hours later, we called it a day, after the chair lifts had to be slowed down to super-slow-motion-speeds due to gusty winds (and us needing to take the Gondola down to Timber Lodge).
Oh what fun … Schi heil!