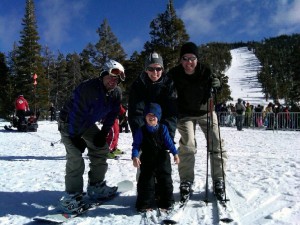 Day #1 of the 2010/11 ski season had to wait for late January to come around, but then the conditions were perfect: a great room at Timber Lodge, great weather & snow, and great firends to enjoy the mountain with!
Breaking up our busy skiing-boarding day for lunch, Kristina & Kody came up to the new Tamarack Lodge, at the top of the Gondola.
And then, Kody wanted nothing more than to join Clae (on the board), me (on skis, what else!?) and Kirk (also on skis) for the rest of the day … but he'll have to wait til next year!
Schi heil!