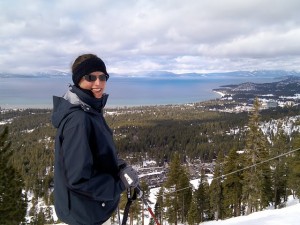 Am Freitag auf'd Nacht, montier i die Schi … auf mei Auto, und dann begib i mi … nach Heavenly, am Lake Tahoe … lalalalala!  (For all you non-Austrians: this is a great Austrian song about going skiing over the weekend (in Austria, not Lake Tahoe of course), and my motto (and melody stuck in my head) whenever I'm heading out east towards the Sierra!
Right, it is THAT season again! The one where some people freak out, check their car's all wheel drive capabilities and wish for the summer after all. The same as the one where I get my car's winter check done, pack the chains and … take a seat on the passenger side in Kirk's truck. Umpf. What can I say … he's got the 4-wheel drive all ready to go and can't wait to get some snow under the tires!
Seasoned ski pro that I am (ok, 30+ years of experience don't make me a pro, but whatever), I am convincing Kirk that the best chance of getting some in-or-on-the-snow driving is when heading up into the 7,000-ft-elvation ranges, and by coincidence these are around Lake Tahoe! Same place as the Marriott TimberLodge Hotel and the Heavenly Ski Resort. I could not have planned this better had I tried! One would think I'm going on this snow experience just to get some use out of my skis!
Truth be told – the first quarter of the year is dedicated to one sport only in my life. And that's skiing! Kirk, not being quite as dedicated to the cold outdoors, has the opportunity to brush up on his own skiing skills this season, with me right by his side. After our first adventure – on the 2nd weekend of the year – did not go over too well (ski boots & flexibility, 2 words that don't always to together great), we are ready for our next try.
It's the end of January and we've been able to get a room at TimberLodge again (gotta use those associate rate benefits) for the weekend! Together with our friends Kristina, Clae & Kody we are heading to a great day of skiing, followed by another day in the snow – at the sledding park. Most of Saturday is spent on Heavenly's green runs (beginners), with some excursions to the blue ones (intermediate), to get Kirk's new boots a good start. Heavenly is a great place for this, with long runs, short runs, easy runs, sunny runs, all with tons of fresh (groomed) snow and fast chair lifts! What a day!
On Sunday, we all head back over Echo Pass and to the Adventure Peak Snow Park, to have some more fun in the snow – as we try out how fast these $15 sleds will really go! (Not as fast as the saucer of death for sure!)
Check out the photo gallery for today to get a glimpse of the great time we had! Schi Heil!