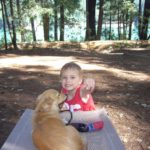 It's time for just one more camping weekend this July (07/27-29, 2012) and we're headed up through Gold Country and the Sierra Nevada Foothills to Scott's Flat Lake, near Nevada City.
Kirk, J.T. and I set up on site 3A, and soon after the Cougar pulls in next door, at site 3 with Kristina, Clae and Kody on board. While the campground has no hook ups, it surely has tons and tons of campers on every site around us! It's packed!
New best friends Kody & J.T. spend most of Saturday morning together before all 6 of us climb on board the little aluminum boat to ship around the lake for the afternoon! The day otherwise has lots of relaxation time and of course a campfire with dinner waiting!
Sunday has another slow start in store, before we pack up as the weekend is over sooner than anyone wanted!
Here are the photos!