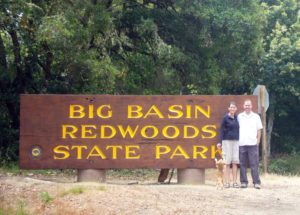 Time to go camping again … and this weekend we're headed to the Big Basin Redwoods State Park, just under 2 hours from home, 1 hour from the Silicon Valley and truly a place of its own!
After having navigated the one-lane road into the park with no other traffic in sight (phewww!), we set up camp at site 51 in the Huckleberry Campground on Friday night, ready to get some relax & enjoy time this weekend!
With no hook ups at the site, it's not a bad thing that the bathrooms (flush, with hot showers) is night next to us, just hidden behind an enormous Redwood tree! The site is huge, and could have accommodated at least 4 extra tents, but for now, it's just Kirk and I plus J.T., the dog. Yes, all trailer-savvy after our long trip last month, she was excited to get back on the road and into the wild!
We get a late start Saturday (as planned), hand out at the site doing not-much (as planned), go for a little stroll to explore the park and its campgrounds (as planned), return for some more of not-much, followed by eating dinner and then getting eaten by mosquitoes. (The only thing not-so fun on this trip!).
Kirk gets to play on his computer, I get to read an entire book and J.T. gets all walked-out this weekend … perfect! By Sunday mid-morning, we've accomplished what we came for; all relaxed we're ready to head back.
And having stayed fairly close leaves enough time to get the trailer all stocked up & cleaned inside and out again – ready for the next trip in 4 weeks!
Check out the photos from our weekend below …