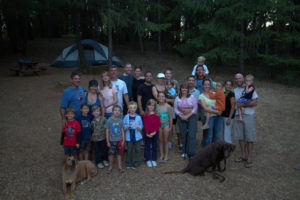 Over the 4th of July weekend 2010, the annual Rollins Lake camping trip was happening again – and this time with an (almost) even split between kids and adults: 14 vs. 16!
Besides most of "the usual suspects", this year also introduced 2 new families to the camping group! "Newbies" the Holmes family – with Chris, Athena,  Cameron, Kate & Nicholas, as well as the Alexander family – with Abe, Laura , Nick & Ben, were joining the "pros" at the Peninsula Campground at Rollins Lake around "The Point": the Anderson's – Kristina, Clae & Kody, the Coble's – Wes, Alisa, Weston, Miles & dog Shome, the Rosellini's – Jeff, Marie, Mia & Mark, the Yelawich's – Joe, Vanessa, Joey & Josh, the Stewart's – Matt, Alexis, Jack, Coby & dog Austin,  and of course Kirk & me!
As every year in the past, the meal share program was working great (how much food can 30 people eat in 3 days?), the weather was hot … and the lake level: high! It was actually up to a level that made it impossible to access the water from our sites: the beach was gone! Another obstacle between the camp and the water: poison oak. No more yellow jackets at the central site, but in return no direct water access.
But after piling kids, water toys and lunch on the trucks, the entire group was off to a day at the marina beach. The "Relaxation Station" was a hit, and the cool water a nice refresher from the burning sun. Water guns, floaties of all sizes & shapes and much more made the time fly by.
Take a look through the photo gallery below .. only a small assortment of snapshots from the 3 days of summer fun! Enjoy!