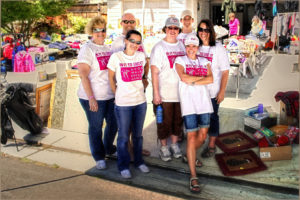 Whoever thought that a garage sale cannot be a good preparation for the 39-mile walk coming up in just under 2 weeks? Well, it can! And thanks to many, many, many donations for a good cause, the Hope For Hooters team pulled off a 3-day garage sale over the 06/25-27 weekend!
Originally planned to be only Saturday morning, we realized during set up on Thursday, that  we had bitten off more than we could chew – at least in 1 day! So, after staging the sale tables and getting signs up Thursday night, we came back Friday after work to price all items. And as we were doing so, people stopped … and purchased! $200 worth of "stuff" for our impromptu early bird opening!
The next morning – Saturday – was THE day! Raiders Chip & Dip Bowl guy was back at 6:30am (but left empty handed shortly after), and we kept selling all day – closing up only at 7:30pm!
And with tons more left to sell, we re-opened for one more show on Sunday morning. Between all 3 days, we raised $2100 for our cause, enabling all of us to walk at the 2010 Avon Walk for Breast Cancer over the 07/10-11 weekend!
Thank you very much everyone! It was a blast!