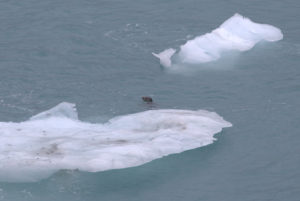 Tidewater glaciers are great rivers of ice that flow to the sea and calve large chunks of ice into the ocean. The bay boasts seven such tidewater glaciers, including famous Margerie Glacier – one of Alaska's most photographed features and one of the state's more active glacial faces.
To start the day off, a group of Park Rangers joined us on board, to provide an overview of our route, what to expect we might get to see and provide general information about the National Park. The park is accessible only by boat or by (water) plane, limiting tourism to mostly cruise ships.
While watching the bay, surrounding mountains and glaciers from the front of the boat (Crow's Nest), from our stateroom's balcony or from the Lido restaurant, we got to see mountain goats, a tiny second worth of humpback whale and multiple displays of the thunderous crack of a calving tidewater glacier.
All in all, a nice relaxing day on board with great views to enjoy on our way into the bay and back out.