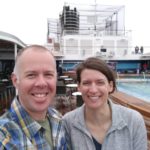 My anti-motion-sickness patch helps, because the ship, as big as it is, still sways in the waves of the open water non-stop it seems. Onward through the Gulf of Alaska.
Tina & Charly are served breakfast in the main dining room, while Kirk & I grab a light meal in the Lido Market (self-service). After a stroll through the ship, we all meet up again at the Crows Nest, the bar at the very front of the ship, and relax.
Nothing on the schedule for the rest of the day, until it's dinner time at 5:30pm. This time we dress up for a fancier gala dinner.
Afterwards, I decide to call it a night as I can barely keep my eyes open. Relaxing is hard work!  Tina, Charly and Kirk instead hit the piano bar for singing and drinks. Oh boy.