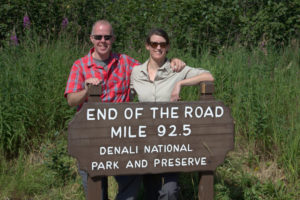 It will be a long day today, as we board the Kantishna Transit Bus in Denali National Park at 8:30am, together with almost 40 other visitors plus our driver, Barr.
Barr has done this for the last 18 years and still loves driving into the park every day of the summer season. She tells us that any visitor to the park has about a 30% chance to see "the mountain", and based on the weather right now, we think that the other 70% will not apply to us!
Taking the transit bus instead of a tour bus omits the ongoing narration, history of the park and stories on fauna and flora, but will still get us the highlights of what we need to know, a skillful and knowledgeable driver who will point out the interesting things along the ride and will keep a look out for and stop at any animal sighting!
Little known fact – when Denali (or previously named Mt. McKinley) is showing itself, it can actually be seen already as early as mile 9, from where we get our first glimpse of the day! Yesterday afternoon when we drove along this open-to-all part of the park road Denali had been hiding in the clouds, and we never even knew it was there!
The excitement is explosive on the bus, as everyone is getting their first photos of the snow-and-ice capped peak in the distance.
As we continue on past Savage River, where private vehicles come to a stop and have to turn around, we keep our eyes peeled on the mountain sides and valley floors for any animal movements. It doesn't take long until someone yells Stop! and Barr brings the bus to a halt before even reaching Sanctuary River. Three dall sheep are standing out from the brown and green hill side of the Primrose Ridge, with their bright white furs, as if ready for the snow. Good thing Kirk got that new big zoom lens, or else we would not have much but a white dot in the photo! 😉
After squirrels, rabbits and sheep, we are now on the lookout for bigger things … and soon enough, near our patience is rewarded: a bear! A grizzly to be exact, and everyone is hanging onto the windows, to catch a glimpse and some photos here, near Teklanika River. How exciting!
The views of Denali don't get old, regardless of how long the bus ride is. With every mile driven we get one mile closer. Eventually we will be 22 miles from the peak, but we still have a while to go. After all, the end of the road isn't until mile 92.5 in Kantishna!
After a quick stop at Toklat River and onward journey, we arrive at Eielson Visitor Center for a half hour break. Denali looks close enough to touch from here, and we get some great shots. All the while not forgetting that there are plenty of other peaks vying for our attention, and more critters and animals to be looked for.
The animal-viewing dry spell comes to an end when we see caribou and even a big moose in the distance! Once again the zoom lens proves a great investment as it seems to bring the huge antlers up and close in the view finder.
We stay on the bus all the way, until we reach the end of the road. Kantishna still has one active claim where hopefuls dig for gold, but otherwise the mining business is history. Private lodges back here can be reached via the park road (special permit) or by plane … the gravel landing strip awaits.
We head on back out, as do all our fellow bus riders, and Barr tas us to Wonder Lake, where we get another short break to enjoy the views and watch people take a dip in the chilly water.
As we continue on back towards Eielson Visitor Center we're all getting a little sleepy, but someone's gotta watch for wildlife, and the 5 o'clock hour calls for more sightings along the road!
Sure enough, we see the big moose again (it hasn't moved on), plus another one a little further up the road. Then another highlight of mama bear with two cubs. Sleeping in the schrubs, but cute to look at anyways! Plus caribou (we don't even stop for those anymore), more dall sheep and smaller critters.
After 12 hours, Barr drops us back off where we started, at the park entrance. What an amazing day this has been – and one could not have asked for better weather, greater views or wildlife excitement. A day to remember!