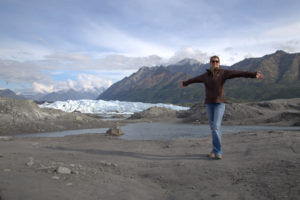 We've lucked out with the weather until now – but this morning is grey and drizzly, which keeps us from catching a farewell glimpse of Denali as we head south on Hwy 3 towards Anchorage.
With no major stops along the road, we pull over or the little ones – the concrete igloo (which may have been a hotel many years ago?), view points with great vistas of clouds, misty woods and wet brush, and other roadside attractions.
Before descending into Anchorage however, we turn noth onto Hwy 1, in the direction of Valdez. While we won't be going that far, we follow along the Matanuska River for about 100 miles upstream, to a little place called Glacier View. As the name suggests, one can stop and view the glacier! The Matanuska Glacier that is. For free, from the state recreation site, which we do. Then we drop down a steep and windy gravel road onto private land for a much closer look – and an opportunity to walk onto the glacier! Not free, but the $30 a person are worth it! Once we get to the parking area near the glacier, wind breaker jackets are coming on, and off we go. Through sand, gravel, mud and eventually dirty ice we reach the white ice of the solid glacier tongue. Slippery when when wet. Extremely slippery when walking on ice! We trek along as far as our shoes and balance will take us, and enjoy the views, slip on ice and chill on the glacier.
Definitely worth the detour!
It is getting late when we leave the glacier and out in the middle of nowhere, it's an hour + drive back to civilization to find a place for dinner. Just outside of Anchorage we find a pub that's still open and have a late dinner, before finally making it to town.
Now you may think that the day ended here … but no. The Extended Stay America hotel we're are booked at for the next 3 nights is not only sold out, but over sold. Badly. Deep. Major "walking" going on, only that the poor guy at the front desk was not prepared for this when he started his shift two hours earlier! No hotels to send us to, but fear not – I'm online and on the phone to find us accommodation in this completely sold out and oversold town! Marriott has has all its properties shut down for days, so I knew they are out (they had been expensive to begin with hence my reservations at teh ESA). It takes a while, but the Hilton downtown has a double-double room, and so the 4 of us get to bunk together for the night. Not a great hotel, terrible (i.e. not working) A/C, and noisy fan (as well as a snoring bear hiding somewhere in there!) keep me awake for most of the night. I'll get compensation in the morning, but morning seems far away, even at 2am when it's finally lights out …