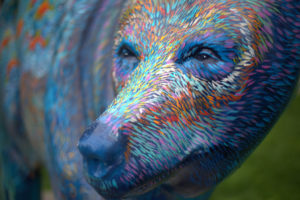 When you have a bad experience with your hotel room, getting comped breakfast is a no-brainer. But when breakfast is bad too, you know why you should not pick Hilton. (In my defense – it was literally the only place I could get a room at last night at midnight!)
In any case, I sent Tina and Charly out for sightseeing until noon, until we meet back up later. In the meantime, I get the hotel situation for the next 2 nights figured out. Knowing what's going on, I'm not backing down from the ESA Hotel taking us back for the remaining nights of our stay here in Anchorage! We are confirmed to come back at 3pm – and until then we join in the sightseeing activities downtown! The log cabin visitor center, Performing Arts Center for the Aurora show (northern lights), Town Square Park, Salmon Viewing off the bridge over Ship Creek by the Ulu Factory and a few more blocks downtown give us a few quick glimpses of town. We'll take a trolley tour tomorrow, and probably check out a couple museums. Not all that much more to do in town, as most activities take you out of the city, where we've been or still have scheduled to go to.
By mid-afternoon we head to Midtown, to check into our hotel. The desk clerk and the General Manager are both not too happy to have to deal with another issue today, but we get all room cost concerned squared away quickly. Fist and last time at an ESA property! MI hotels are worth the premium! 😉
Time to catch up on some photos and more, before we get into dinner plans and Friday planning later today.