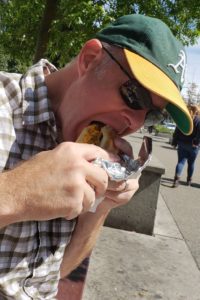 And off we go … back to downtown Anchorage for some more sightseeing.
We're taking the Red Trolleybus Tour first, and it gives s a great overview of the city, with our tour-guide/driver sharing historical tidbits, funny anecdotes and lots of interesting information. In just under an hour we see various neighborhoods, Earthquake Park, the waterfront with its statue of James Cook, who "discovered" in his search for the Northwest Passage, and more.
After the tour, we grab a quick lunch (Reindeer sausage!) before we walk back out to the statue, as it allows us beautiful views over the Cook Inlet, across some impressive mountain peaks – and another look at the top tip of Denali. Visible only on clear days, we didn't have much hope to catch a glimpse today, but as the clouds shift, the mountain peeks through for a few minutes.
While Tina and I enjoy the view, Kirk is busy taking pictures and videos, and Charly takes a nap.
After some gift shopping we stop for drinks on the roof top bar at 49th State Brewery. Then we grab dinner at The Hard Rock Cafe, before calling it a day and head back to the hotel.