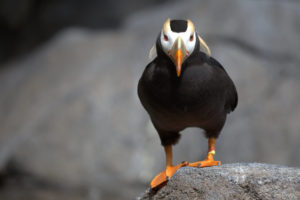 It's time to move on to our next destination – and the way there will be covered by train. We have to get up early to catch our 6:45am train, but are rewarded with beautiful views from our seats in the panorama car: glass ceiling!
Despite the gloomy weather outside we see bald eagles, a porcupine, a couple of moose, salmon, as well as beautiful nature – mountains, glaciers, lakes and rivers, as well as the open sea.
We arrive at the final stop in Seward just before noon, and catch the free shuttle to the Brass Lantern B&B. After dropping off our bags, we stroll through the few blocks of downtown Seward, grab a sandwich to go (by now it's actually a little sunny outside!) and relax.
Afterwards we continue walking through town and soon after have seen just about all of it. So we go into the Alaska Sea Live Center, a very nice Aquarium and informational center. Similar to the Monterrey Bay Aquarium, just much smaller.
We then catch the shuttle bus to the small boat harbor to get some drinks, before watching a fishing cruise offload their catches and displaying them all on the pier (and then gutting them there, too). It can't deter s from eating dinner, but wasn't a thing to watch for the faint hearted.
After dinner we walk back to downtown, catch one more drink and then head back to the B&B.