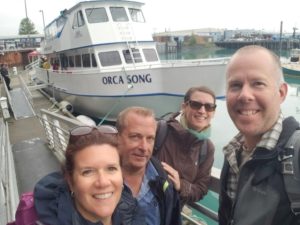 Our taxi pick up is at 8am, to get to the Major Marine Tours desk at the 360 hotel at the harbor. After check in and storing our luggage, we are soon boarding the Orca Song vessel, which will take us over and around the Resurrection Bay, looking out for wildlife.
The first bald eagle sits on a concrete post sits the edge of the harbor, just waiting to get his (her?) picture taken. As we get more away from land, we spot sea otters (napping while floating), sea lions and harbor seals. Not to be missed are the horned puffins and the tufted puffins, as well as other critters, mountains and glaciers.
In the early afternoon we walk to the cruise ship dock, where our "home" for the next 7 days is already waiting – the MS Noordam from Holland America Cruise Lines. After check in, we check out our rooms (luggage to be delivered later) and the whole ship. Multiple restaurants, bars, shops, spa and more to fill our time!
Our dinner seating is at 5:30PM, followed by some drinks including night cap.