Unglaublich, aber wahr! Wir sind schon seit 3 Wochen wieder zu Hause im winterlichen (= regnerischen) Kalifornien und vom Alltag fast komplett verschluckt! Aber so ein großartiger Urlaub kann nicht ohne Resüme als abgeschlossen gelten! Daher kommt jetzt & hier mein Schlußkommentar … Und weil die meisten Leser in den USA sitzen: auf Englisch.
As Kirk and I were planning the details of our Australia trip (which really were not as many details as you'd think if you know me and have travelled with me before), we were fully aware that the allotted time (just over 2 weeks) and the planned trip route (2,000 miles driving) & to-do's (city sightseeing, mountains, coast, rainforest, diving, etc.) would be pretty hard to match up. But were both up for a challenge (as if going on a vacation – just the 2 of us – wasn't challenge enough!), and we dove right in!
Great air fare on Qantas, hotel best price guarantee at Marriott and all-inclusive deals on National car rental enabled us to keep the total cost of our trip within our budget. OK … We did not really have a $$ amount pre-determined as our "budget", but we came in under our own expectations at least! And after we figured out that food intake does not necessarily have to come at the cost of an arm and a leg (since there is no more cannibalism Down Under), we freed up some reserves for souvenirs (umh … I meant to say Christmas gifts) for family & friends back home!
If you are thinking of exploring Australia's East Coast on your own, but using our blog as a guideline, I'm happy to point our some other useful links – to websites, services, etc. that we used before & during our trip!  As I work for tips only, not on commission, there is no guarantee that all & everything is listed. But whatever is on here (including our own rating and comments) is meant as a point of reference!
Flights ~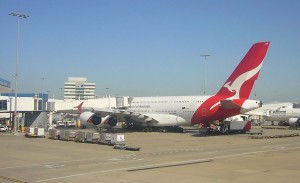 Ideally, you're looking to get the best price, on a good airline, with the least amount of stop overs. Well, we did pretty good on this one! A $597 offer round trip all taxes included caught our eye back in August I believe, and after agreeing on our travel = vacation time off dates, we booked online at $752 a person (lower rates were gone … those darn revenue managers are closing out deals fast!): direct flight SFO to SYD, on Qantas (with individual TV screens, on demand movies and shows, games, etc. and nice service).
Although accumulating frequent flyer miles would have been preferred on United (similar price offer available at time of booking), the difference in airplane was the deciding factor (overhead screens in the aisle only; please do not ask me for more plane specifics – I'm not the expert here!).
We had a great experience both ways. The planes looked to be in good shape (maybe not the cleanest, but who's checking anyways), the staff was very friendly (including the seat assignment help desk lady!) and the flights on time! Definitely recommendable.
Once on the continent, traveling within Australia will definitely take longer than you would have expected! Driving one way from Sydney to Cairns automatically points to the airways as your return trip-mode of transportation. Looking at the different options available for that trip, we decided to go with Virgin Blue, Richard Branson's airline for Australia's domestic air traffic.  Good rates, connections and efficient service all added up to a pleasant flight experience on our way back south to Sydney.
Hotels ~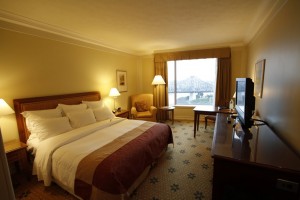 No trip of mine (and now also Kirk's) would be complete with at least 1 (in reality however as many as possible) stay(s) at a Marriott hotel(s)! The brainwash (also known as spoil-factor) has set in even with Kirk and the luxury and comfort (and cleanliness) of a Marriott room is a must, where possible … and associate rate available! Visit Marriott's website to search for hotels in the area you are traveling to, and if there are any, we can see if Friends & Family rates are available!
Since there are only 8 Marriott properties in all of Australia at this time, we had to find alternate accommodations for 9 of our 15 nights Down Under. With tons of motels, bed & breakfast and small hotel options available, the decision comes down to (1) location (i.e. where in the bush … uhm … outback am I?), (2) comfort (or the lack thereof) and (3) price. The location piece is really a question of how far will go (drive) before you call it a day, as most towns are to small to favor one location within town over another. One town to the next however can make a big difference (we're talking 100+ kilometers in some cases!). Having a street map of the area you're travelling through, as well as internet access (see below for more on that) is helpful. Let me rephrase that … the map is a must!
Although well-known travel sites like Priceline and Travelocity can be helpful, we actually found that they are not as good as another one: Wotif.com. Being an Australian website, it's easier to navigate (more motels, etc. participate in here than in the "big" sites it seems), and although there is a booking fee of a few AUS $$, the total cost for your stay will likely come out cheaper than other websites. Keep in mind – most of these small, one-off motels do not have their own website! Moving on to the comfort factor I need to be very honest: don't believe anything you see and read online. You will get to be your own judge once to enter your room for the night. Biggest disadvantage by pre-booking: you're stuck with the property you chose. Advantage: no searching around when it's getting dark and you're tired. Kirk and I had our fair share of not-so great motel stays, but then again learned that "newest motel in town" helps in getting the interior design up to standards, as does any pictured (paid) advertising on (free) maps!  A brand name on the other side (Comfort Inn) means nothing (I should have known better … these hotels have access to brand photos)! Anyways … if unsure about the comfort, go for the price! Most people have an approximate travel budget, which also includes guestimates on hotel accommodation spending. Our expectation was $100 per night (total, not per person), knowing that we'd be staying in motels in nowhere land. When it came down to deciding on a property, we'd narrow down the options (if more than 3 in town) by price and then pretty much let the gut feeling lead the way in the decision process. We came out ok … and definitely (exactly) within budget/expectations.
Internet ~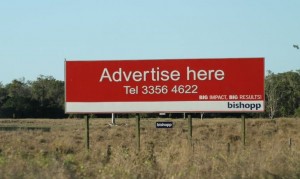 Can you live without internet for 2 weeks? Yes! I mean: no! Not if you are (1) travelling with Kirk and (2) documenting your trip in a blog! Todays world is so connected, that almost every hotel, motel and B&B has internet. Most of them for free, or for a reasonable fee (AUD $10 to $20).
Plus: plenty of internet cafes in every town we visited! And if all else fails: McDonalds has free WiFi in all of their restaurants! And there's a Macca's (OZ slang for McDonalds) everywhere! (Almost.)  So we had a meal & internet, or a drink and internet, a p-break and internet, or even just a spot in the parking lot and internet … all to get the latest & greatest of our trip to you!
Car Rental ~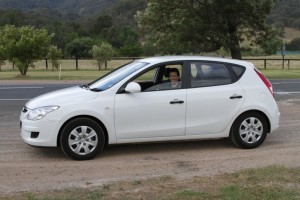 Most of the big rental car companies operate Down Under, so you get your pick if you have a preference. In our case, it was just about price. And after checking Costco (no), AAA (no) and even the Austrian Automobil Club ÖAMTC for offers (no), we decided to stick with our initial offer from National, where an early-on online quote turned out to be an unbeatable price.
Operated by Europcar once we got there, the deal included one-way fees, all insurance (mandatory), unlimited mileage, etc. for much less than expected. Picking up the car in downtown Sydney on a Sunday morning was just as simple as the Thursday afternoon drop off in Cairns at the airport almost 12 days later. No complications or delays. The only surprise was the actual size of the car we got: having booked something "comparable to a Toyota Camry", the Hyundai i30 was definitely smaller  than expected, but all the luggage fit in the trunk, and the moment we drove off (out of the basement parking garage), we were thrilled to have a smaller car! So much easier to drive on the wrong = left side of the road, on lanes that are much narrower than what we're used to! A big win for us!
A few days of road trip through the South of England years ago certainly had not made an expert out of me for driving on the left, and being a passenger in my twin sister's car (from Germany) in London surely did not help either. So it was all up to Kirk & I to work as a team at every intersection, roundabout and parking structure to ensure we drive on the right – I mean: left – side of the road. All in all however it's not as tough as you might think (especially when you simply follow the locals – in busy areas!). Although I do have to give credit to the non-existent traffic throughout our trip. Not being stuck in traffic jams or back up is very helpful in making your ride a smooth and easy one.
Boats ~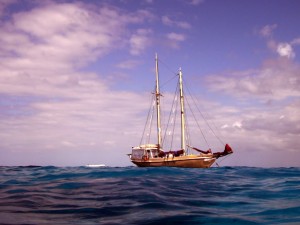 Being on the water is not one of my most-loved things to do, but usually helpful for diving and snorkeling, and essential when travelling to the Great Barrier Reef! With over 2,000 miles between its Southern and the Northern end, we had plenty of places to choose from for our dive/snorkel boat trip out. We decided that further up the coast would be good and after checking out some sites and offers online, and matching these up with our travel itinerary, I decided that Cairns was going to be the departure point.
Once that was set, it came down to picking one of the many dive/boat operators that offer trips to the reef. Again, planning does play an integral part in the selection process. As we had only a limited amount of total vacation time and my preliminary schedule had 2 days blocked for the this part, I was on the hunt for a 2 day – 1 night dive boat trip. With a maximum of 15 passengers on the boat. The phrase "the more the merrier" might apply to many things, but certainly not to my dive planning!
After not too much searching, I found an offer from New Horizon. With "small" sailboats and a maximum passenger capacity of 10 people, the trip on board the "Coral Sea Dreaming" was exactly what I had been looking for. Exclusivity has its price, so I was not surprised to see the overnight cost of this offer being higher than if I was to book some other offer on a much larger boat. But with the other big ticket items of the trip at great deals, this cost was worth going for! The booking process was easy regardless of the time difference, and just a few days before getting to Cairns, I called to reconfirm … and here is where it got interesting! With our travel dates being outside the peak season, only 1 other person had signed up for the same boat as we did, and they were not sailing out with less than 4. But instead of this causing an issue, New Horizon's contact Dana actually offered a great solution: upgrading us to the 3 day trip which we then tried going for. As you likely know from our posts, we did not make it onto the boat a day early thanks to a sore throat, but again – no problem for Dana and our trip! A day trip boat took us out to the pontoon where we met up with the "Santa Maria", our sail boat for 2 days. With only a total of 7 passengers, we had every opportunity to explore the reef through diving (with the dive guide Jonny) or snorkeling, spend time on the ship with skipper Sean or enjoy the meals prepared by chef Jill. Even though the wind situation did not really allow for true sailing, having the sails out on our way back from the reef to Cairns added a nice touch to a great experience!
Books ~
As with most travel planning, guide books were helpful also in planning our specific trip. I guess our initial route was not the most original idea, since we found multiple books in stores locally, but when traveling on your own schedule and in your own car, you can still manage to feel like the only tourist out there!
Here is what we found most useful:
East Coast Australia – Lonely Planet: actually covers more than our trip, as it includes the South-Eastern coast from Melbourne to Sydney
East Coast Australia: Sydney to Cairns – Footprint: perfect area coverage
Both books list all sights along the route, as well as a number of accommodation, dinner and shopping options. Depending on your personal preference of how things should be listed and how clean vs. cluttered the pages in the book can be, one or the other will be the better option for you. Both are great help!
And because reading the travel guide book gets too much after a while, the following is my recommendation to get you excited, thrilled and curious about the land Down Under:
In a Sunburned Country – Bill Bryson: one of my favorite authors combines his fun- and fact-filled memories of multiple trips to Australia in this book (also published under the title "Down Under").
It will make you laugh out loud and make you cry (again from laughing) while you just want to get there and explore the places for yourself! If reading it on your way home, you'll be able to feel as if you're there with him in the 4WD.
Above & Beyond ~
Depending on how much time you will be spending on your trip to OZ land, and how far you want to get in that time frame, you might be able to pack a few more sights into your itinerary.
We had missed out on:
Port Douglas, Daintree National Park, and Cape Tribulation -> the very last frontier going North, not to be missed to explore the "real" rain forest
Whitsunday Islands National Park -> Heart reef is located in this National Park, in addition to countless other reefs and islands worth seeing
Fraser Island -> exploring this sand island is possible by 4WD only and a must-do if time allows
Hunter Valley -> if wine country is all yours, then this Napa Valley of Australia has to be on your list
and … The Big Gumboot! 😉
And if you still have time left … explore additional parts of the Australian continent!
Until then … G'Day mate!
Your Andi The Tour Guide