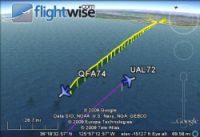 Do you have nothing better to do but track our flight back home? I knew it. Great! Just go to either of these links. We're on Qantas Flight 73.
http://flightwise.com/track/QFA73
http://flightaware.com/live/flight/QFA73
http://www.flightstats.com/go/FlightTracker/flightTracker.do?id=178288817
Or for the fancy Google Earth 3D way, download this KML courtesy of flightwise.com. (geR1716783.kml)
Hopefully that works. See you soon.