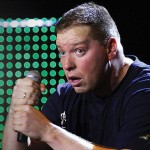 A big Thank You to everyone who came out to Tommy T's Comedy Club on Friday, June 03rd!
Comedian Gary Owen was performing, and everyone had a great time! The house was packed and the jokes were loaded … that's what you get when the "black comedian of the year" winner is a white guy from Alabama with great stories to tell!
With a great turnout to our fundraiser, Tommy T's has made a generous donation towards the Hope For Hooters team goal! Thank you for that!
With just about a month left until the walk, our fundraising continues to ensure we can all walk on July 9+10 in San Francisco! Thank you very much for YOUR support!
Andrea
Walker, Team Hope For Hooters