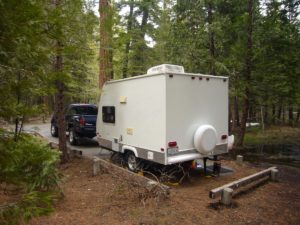 It's the end of May 2011, in sunny California. Months and months ago we booked our sites at Pinecrest Campground for the Memorial Day weekend, looking for a great spring getaway.
But as the dates drew closer, the weather report was not playing along, putting the holiday weekend back on a winter schedule!
But with the heater inside the trailer working, batteries and propane filled up, and gloves, hats & firewood packed, we are ready to tackle the 5,000+ ft elevation of Pinecrest Lake in the Sierra Nevada!
Late Friday night is when Kirk & I join Kristina, Clae & Kody at our campsites in the B loop. And after the first snow flurries on Saturday morning, Wes, Westin & Miles join us … ready to camp in their tent!
Despite the near-freezing temperatures, the snow, the rain, the slush-flurries and the hail, we're out there … well, we're outside, huddled around the campfire which is blazing hot and huge in size! Don't let the rangers know!
Sunday is the day to explore the lake, and while Kirk & I start a hike around it, the rest of the gang is going to conquer it by boat. Party boat that is. And while we get warm from the brisk walk, the boaters are freezing cold in the middle of the lake! Nevertheless, we hop on board about 1/3 around the lake, and get a ride to where the river meets the lake, where we get off again to finish our tour around the lake. A trip up to Cleo's Bath is cut short shortly after the start, as the wind picks up and rain starts pouring down.
After yet another dinner around the campfire, Kirk and I pack up the Fun Finder and head home, leaving the Andersons & the Cobles behind for one last night of spring – uhm – winter camping at Pinecrest!
Next trip … somewhat/where warm please! In the meantime … here are the photos!