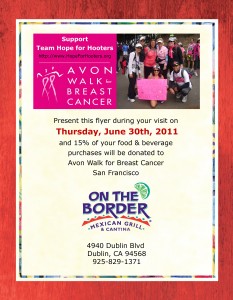 Besides continuing our training walks, the $$ fundraising goes on as well, as team Hope for Hooters is getting ready for another big day in preparation for the 2011 Avon Walk for Breast Cancer in July:
On The Border – Mexican Grill & Cantina in Dublin is supporting us by donating 15% of every guest's bill on Thursday, June 30th! All it takes is a copy of the flyer!
Great food, great drinks – enjoy a night out and support our team along the way! Try the frozen Sangria Swirl Margarita – Grande size (my favorite)… or any other of the delicious items on the menu!
Thank you!
Team Hope for Hooters – Andrea, Alisa, Teri, Kristina & Clae