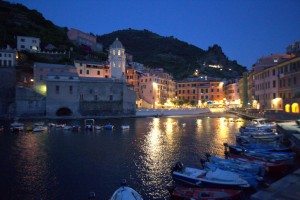 It's time to say Goodbye to Switzerland as we head to the Zurich Hauptbahnhof (main train station) and catch the Trenitalia to Milan. It's a pretty train ride through the Swiss Alps but we have places to go!
Once in Italy, we have a couple more trains to catch – first to Sestri Levante and from there a slow regional one that will drop us off in Vernazza, in the heart of the Cinque Terre National Park.
The whole town is only a few hundred meters long and wide, and the walk from the station to our apartment is not far. After we meet up with Dorano, our host, he leads us up the stairs to the 3rd floor apartment. Keep in mind that this is 3 floors up, not just 2 as in the U.S. … and these are hillside home stairs, steep and uneven, and many higher than average, plus very narrow. But the view from our room is great!
We relax for a moment to catch our breath, before heading back down to explore and find a place for dinner. The host-recommended Taverna di Capitan on the main piazza looks ok, but the guy playing the accordion and singing along is getting louder with every sip of wine he takes. We can only take so much and pick a much quieter place, Il Baretto, to enjoy our first serving of pasta (with frutti di mare for Kirk and Pat). The food is great and we have a good time.
Dessert is picked up across the street, at the Gelateria di Pinto, where I finally get my Stracciatella fix and everyone indulges their delicious ice cream. Calories need to be burnt before going to bed, so we go for another stroll thru town, now after sunset.