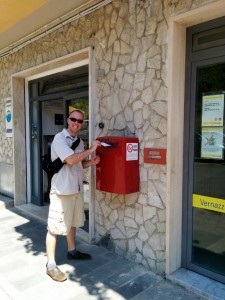 Monday morning wakes us up with delivery guys smashing bottles as part of their job (?) and the first load of tourists is walking down towards the water. But everyone got a good night's sleep, and after meeting up with Dorano for check out, we are ready to explore Vernazza once more. Well – after an early lunch since we did not get breakfast!
Ready to tackle the steep hills, we head up to Castello Doria, where we are rewarded with spectacular views of Vernazza, the Cinque Terre coastal area and the water: the Mediterranean Sea.
It is hot already, and many people jump into the sea to cool off. We simply relax on a shaded bench on top of the castello and cool off. Following our hike back down, we're ready for refreshments in a bar (outdoor seating) on the main piazza. We're on vacation after all!
Later, we visit the church S. Margarita di Antiochia and go window shopping (and pick up some souvenirs while at it). Soon enough it is time to collect our bags and hop on the train – it will take us to our next destination: Firenze! Florence, here we come …