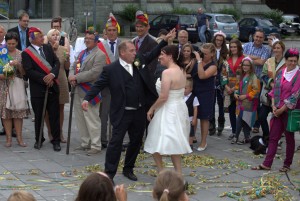 The big day is here – the main reason for everyone's trip to Goetzis! Tina & Charly are getting married … after 13 ½ years (to the day … they met on January the 13th, 13 years ago)!
The bride & groom are ready to take the big step in a beautiful ceremony at the Goetzner Schloessle, a small castle in the the center of town, reserved for locals only. Approx. 60 of their closest family and friends are invited to attend, and Charly's brother Andreas and I get to be the official witnesses of the wedding ceremony. Not a dry eye in the house (or a dry forehead .. it's hot yet again, and humid today).
After the ceremony (yes, they both did say "I do"), additional guests including more friends and coworkers are joining the group for the Agape, where everyone gets to congratulate, the "Schlaraffen" (Goetzis carnival organization) welcome the newlyweds with a sword tunnel and the kindergarten teachers have prepared a song for the happy couple.
Another surprise awaits when a horse drawn carriage comes around the corner to pick up bride & groom plus Andi & Andi for the ride to the reception (at Dorf Mitte in Koblach, next town over)! With traditional tasks lining the trip (cutting through wood, drinking Schnaps, etc.) it takes almost an hour to get to the next location. Refreshing drinks, the bouquet toss and a quick rain shower later, it is time for dinner, dance and celebration!
A great celebration for a happy couple … finally married!