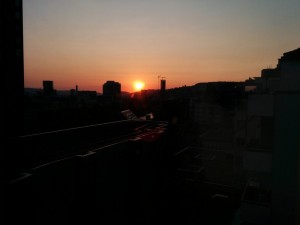 While the day's schedule is packed with post-wedding surprises (the wedding guests "decorate" the couple's apartment according to the tradition), brunch and a family photographer session, we have yet another surprise planned!
But not for the newlyweds – this one is for our parents. With their 45th (!) wedding anniversary fast approaching (Aug 7th), we've organized a cake with their wedding photo on it, and put together a brass frame (45th anniversary = brass). In the frame – 4 wedding photos: Rainer & Heidi, Kirk & Andrea, Jon & Sabine and Charly & Tina! It's perfect!
(We've decided Phillip should wait about another 10 years before getting married … just to give everyone a break from the last 3 weddings in the last 17 months!)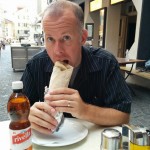 In the late afternoon and it is time to say goodbye. Most of the family departs … including us 3, heading to Zurich, where we will spend one late night before flying out Wednesday morning.
Of course Kirk couldn't leave just yet. He's been itching for a döner kebap this whole trip. As you can see, he finally gets his wish as he enjoys one in Zurich.