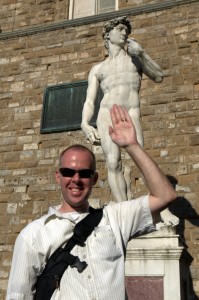 After our arrival from Cinque Terre Monday night, we are greeted by Fillipo, our host's brother at the apartment "Allegri Flat". It's my first experience with Airbnb and I'm excited to see if it's worth the hype. The place looks like the picture, but as in all cases, the "marketing" photos online give it the extra touch that real life might be missing. Or maybe it's just the heat and sweat and tiredness getting to me … But the location is awesome! Right next to the church of Santa Croce, only a few minutes' walk from Palazzo Vecchio and all the other main sights.
We're taking it slow on Tuesday morning as we're just settling in, and have a tour booked for 12:30 this afternoon. A stroll around our neighborhood ends on the Piazza della Signoria, right in front of the Palazzo Vecchio. The town hall and place of residency for the Medici family is impressive as always, with all the (naked!) statues making for a grand scene on the square. It's hot, and as we're looking for shade, we explore the courtyard of the Palazzo before heading back out to explore the courtyard of the Uffizi Galleries, where we will meet up with our tour guide Elena shortly.
The lines to get into the Galleria Uffizi are long, but Elena gets us through the "members only" queue to avoid the worst. Soon enough we're inside this spectacular museum, ready to learn about the beginnings of the Renaissance, everything there was to it and beyond. The highlights certainly include the "birth of Venus" as well as many other well-known paintings. Surrounded by more sculptures … and massive amounts of tourists. This is truly a must-see sight when in Firenze (Florence), and best enjoyed with a tour guide (and in only a small group). After Elena leaves the group at the end of the tour, we head back up to the 2nd floor to enjoy some cold drinks on the terrace. Then we're ready for some more art any enjoy several rooms' worth of exhibits again, before leaving the museum in the late afternoon.
Located just a stone's throw away is Ponte Vecchio, named the Old Bridge because it is the oldest one in town (on the narrowest spot of the Arno river). More tourists, almost as many gold & jewelry stores  and the ever-present selfie-stick masses crowd the bridge beyond belief. We cross the bridge to make our way to the Oltrarno district, where we skip the Boboli Gardens (it is just too hot) in favor of an early dinner. One of my GM's recommended the Trattoria 4 Leoni in this neighborhood, and we shall not be disappointed! Dinner is delicious, service is great and we are happy tourists as we head back towards our part of town later in the evening.