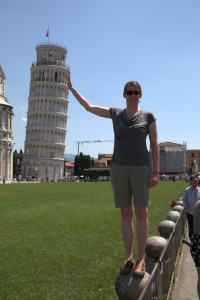 We're going on a day-trip excursion today, leaving Firenze in the morning (after walking across town from the apartment to the train station) and get to Pisa within an hour's ride.
From there, we stroll through the city, across the Arno river to the "Piazza dei Miracoli", which houses the Pisa Cathedral (Duomo), the Baptistery and the Torre … the Leaning Tower of Pisa!!  You can't miss it – as soon as the masses of tourists start crowding together and the souvenir merchants get more aggressive, you're close! And then, just around a corner, you can see it!
It's impressive, especially when you look at how much it is leaning, and compare to how little the top seems to be tilting. Upon second look, you'll find that the "lower" side has slightly taller floors, as the architects were trying to offset the leaning by making that side taller. But it only made heavier and with that worse. It's quite a hike up those stairs, but Kirk and I are able to get tickets to go up and do it. Pat will go ahead into the Duomo, to enjoy extra time inside, before we join her there following our climb. After tower and Duomo we also visit the Baptistery, where we get to listed to the beautiful sound of the ticket taker's voice, as it echoes off the walls 12 times for every note sung!
With all the main sights of Pisa checked off our list, we head back towards the station, but stop for lunch at a small pizzeria on the banks of the Arno. Then some souvenir shopping before we hop on our train to Lucca. Well – technically we were going to have missed that specific train, but with it being 20 minutes delayed for arrival, we made it just in time. Once on board, we realize there is more to the delay. The air condition isn't working. I actually think that the heater is on! How else would we be sweating more inside the train car than we had outside in Pisa? Halfway to Lucca (usually a half hour ride), we stop. Not sure why. Or how long. But long. And then longer. By the time we arrive in Lucca, a full hour has past! With that in mind it's a good thing that my colleague Matthew has last-minute cancelled our "meeting" here in Lucca for this afternoon… we would have been late!
Off the train, inside the still-toasty warm Lucca city walls we stop for a cold beverage and some rest first. Then we head on to explore this fully walled-in centuries-old town! Only a couple blocks into our walk, we find the set up for a huge open air concert (stage, seating, security). A quick check online shows that tonight Bob Dylan will play here, as part of the Lucca Summer Festival. How did I not know that Robbie Williams was going to play in 3 weeks? I could have rearranged our trip details … Quite the names on the headliner list for July!
But even without tickets to the show, we enjoy the town. A stroll through the Piazza del Anfiteatro Romano soon leads us to Torre Guinigi, which Kirk and I climb. Phew … we surely are getting our exercise in today!  Then it's time for some gelato, before we head back to the train station. It's been a nice afternoon (following an exciting morning) and only the once-again delayed train is dampening the mood a bit. This time at least it's air-conditioned and only 25 min late. After 14-17,000 steps and 8-11 miles walked today (depending on which phone app you believe), we're tired and take a taxi back to the apartment! Dinner will take place as close as possible, i.e. one door down from "home", a Fodor's Choice restaurant!